March 19, 2012, 22:49:03 |
#1
Earth/Air Dragon Osamoda Guide
This is NOT my guide, taken from the US forums HUGE reps to Wakfuguides for providing this, find a link to his Youtube channel at the bottom of this guide.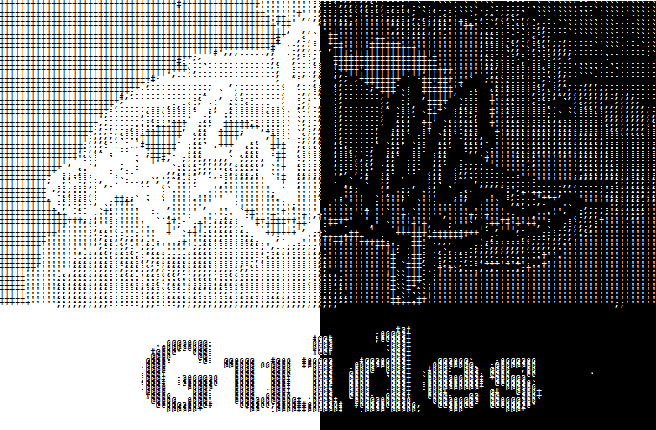 DO NOT FORGET THAT THIS IS SUGGESTIONS AND I AM SHOWING OPTIONS FOR WHAT YOU GUYS CAN CHOOSE FROM IF YOU WANT, DO NOT GET CONFUSED I AM NOT FORCING THEM ON YOU CHOOSE WHAT YOU WANT.


————————————————————————————————————————————————-
0
.
Introduction
1.
AP Items & Mixes
2.
Element Combinations
3
. Critical Hit Balance

4
. Abilities

5
. Specialties

6
Equipment

————————————————————————————————————————————————-
Guide by
Ghost
0.
Introduction
Hello everyone I run a youtube channel by the name of WakfuGuides and I really enjoy making content on there and I want to provide you guys with guides as I really like helping people, I've made a couple other guides but I haven't updated them because there's been frequent changes or bugs to them.
I play Wakfu and I play multiple different characters, I like Sram, Osamoda, Masqueraider, Sacrier.
So you guys can expect a guide for masqueraider as well but that will be way down the road.
Now let's get on to the Guide portion of this thread shall we?
1.
AP Items & Mixes

So for this I am going to show each item that increases AP so far.
Rings:
(Lv 25)
Satisfaction Ring
Obtained from (Jeweler: Lv 10):
3x Ghostoplasm 1x Iron Circle
+
1
AP -
1
MP -
100
HP
(Lv 60)
Gelano(Supposedly removed as of right now)

Obtained from:
Jelly's
+1 AP
Amulets:(Lv 55)
Dragolyre
Obtained from:
Centurion, Major, Admiral, Leader, Baddoboss(
Riktus Elite Boss
),
Impetuous War Chief, Brutish War Chief
+
1
AP -
1%
Damage -
30
HP -
10%
Wisdom +
1
Leadership
(Lv 60)
Celestial Brooch
Obtained from:
Gobbnoxious the Repressor
+
1
AP +
3%
Critical Hit -
15%
Wisdom -
15
HP
(Lv 75)
Dragocarin

+
1
AP
(I do not know whether Dragocarin can be obtained as of right now or not)
(Lv 70)
Sandhi Amulet
(I do not know if you can get this now or not)
(Lv 80)
Narramulet

(I do not know if you can get this now or not)
(Lv 90)
Badoul's Amulet

(I do not know if you can get this now or not)
Belts:
(Lv 30)
Dazzling Belt
+
1
AP -
50%
Resistance
(couldn't find the location on this item sorry, may not be able to get it right now)
The combinations for AP that you should consider are..these.
For 8 AP:
6 AP +1 +1 = 8
Dragon +1
Tree Set +1
For 9 AP:
6 AP +1 +1 +1 = 9
Dragon +1
Tree Set +1
Satisfaction Ring/Gelano +1
OR Abilities +1
For 10 AP:
6 AP +1 +1 +1 +1 = 10
Dragon +1
Tree Set +1
Abilities +1
Satisfaction Ring/Gelano +1
(Recommended) for 10 AP:

6 AP +1 +1 +1 +1 = 10 AP
Dragon +1
Riktus Elite +1
Celestial Brooch/Dragolyre +1
Gelano/Satisfaction Ring +1
2.
Element Combinations
I've went through various element combinations looking for the best and I've came to one.. but I'd like to add in a couple more options if you don't want to get the 10 AP needed for it, here's a couple shown below. ▼

You guys must remember that no matter what element tree you choose you are always going to involve Scaraleaf Wing in it.
The first combination we have here is an 8 AP combination involving these spells.
An 8 AP Combo with Scaraleaf Wing it does a good amount of damage, I have set the spells to level 50.
This next set is the 9 AP Combination. ▼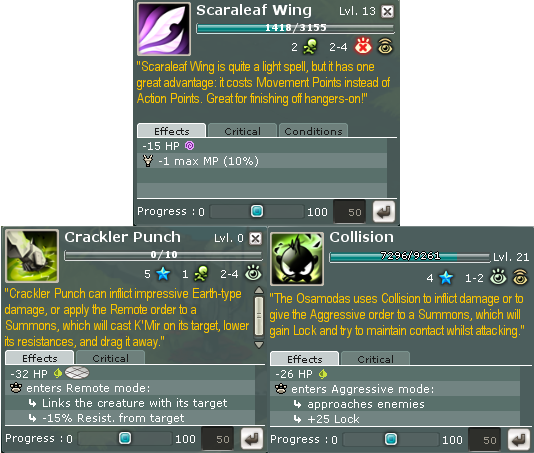 The damage difference between Collision and Skedaddle is where this combination shines.
Sure you may think it's only minor but that much more damage helps, it's like using bwork trump but you aren't.
And now for the last and the best combination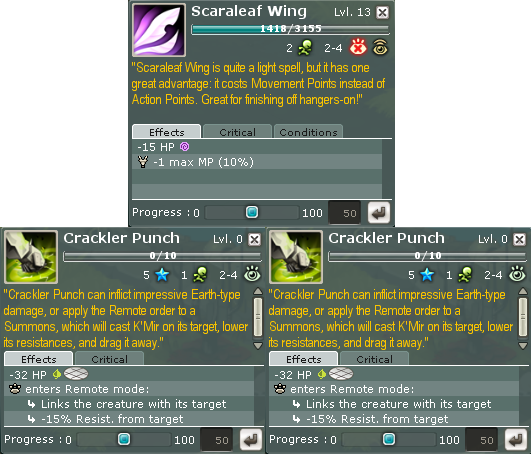 This is strong.. trust me it is I would have to say it is worth getting 150 points for the +1 AP in Abilities instead of the 37.5% in Strength you would get with the 150 points, if you are going with the tree set then go with this but if you are going with riktus elite then go full strength you still end up with 10 AP.
I don't just recommend this because it is the strongest combination for earth.. but because the damage scaling from normal to critical is VERY GOOD for Crackler Pawnch. And that will be explained next.
3.
Critical Hit
Balance
When it comes to getting CH with those hard earned points you will need to do your best to find the balance between getting CH and getting Strength.
Here is a quick comparison I did between Earth spell damage and Fire spell damage with critical hits.
I have set every spell to certain level's to get 32 normal damage and then switched it to critical to compare how much increase you get from 32 damage on each spell.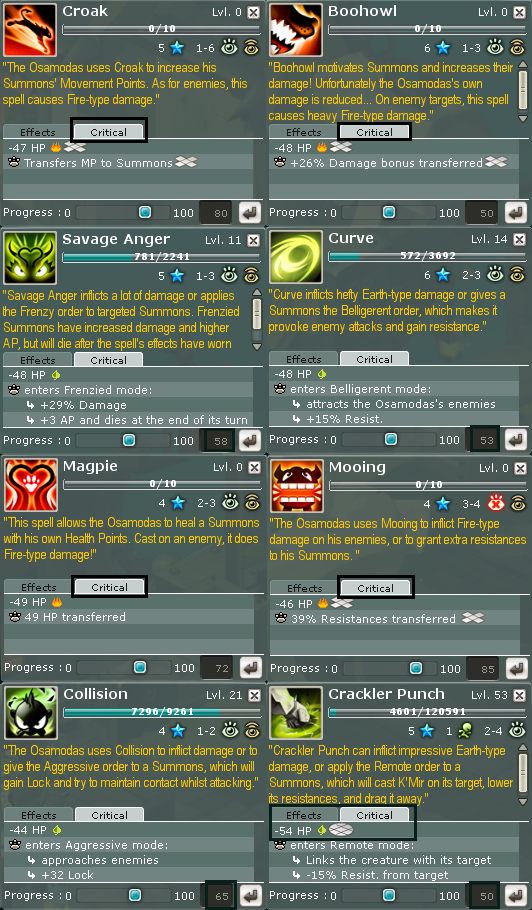 The point of providing this information is because of how well Crackler Punch scales critical hit damage… I mean just look AT IT! ▲ The level 100 Crackler Punch damage is 60 but with a critical hit it does a
MASSIVE 102!
That's quite awesome.
Which in turn makes getting Critical Hit with the 10 AP build that much more useful so let's look at this.
So far the weapon I use as of current is the Riktus Bow which is a great addition for an earth/air dragon.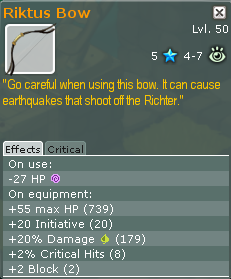 That's 3% CH +2% = 5% now let's just say you have a level 50 summon and you eat it before going dragon to give you the additional bonuses .. that's another 5% = 10% CH, I would say around 10-20% Critical hit is a fair amount for the occasional critical hit during fights so if you can make sure you use scaraleaf wing first and then 2 crackler punches because the chances of you not getting a critical hit would be less with your upcoming attacks.
If you want you can get a couple points of critical through abilities but I'd rather use it for Strength, I love Resist.
It's actually very viable to go with Riktus Elite + Celestial Brooch for a total of 15% Crit and with dragon bonuses giving you around 20% Crit.(as long as you eat a summon higher lvl = more crit)
4.
Abilities
Now I'd like to keep this short and simple as you may already know what to do here.
For your first 31 level's you should get that 1 extra AP because we will be going with the 10 AP Build.
And as for the other 350 points just put them all into strength. it will be 87.5% Damage and Resistance.
If you don't want to go with spending 150 points on +1AP then go with the Riktus Elite set and just pump full strength. You will still get 10 AP and it will be better this way.5.
Specialties
I suppose Specialties is a pretty easy portion to cover as well… lol.
First off max Symbiosa to level 9 and then get level 7 Gobgob because that puts you at 3 AP from Symbiosa and 3 AP from Gobgob so you can 1 turn dragon, now you either have the choice to get Animal Blessing level 5 now or you can max out Gobgob and then get Animal Blessing Lv. 5 but that's up to you.
The reason we get Animal Blessing Lv. 5 is so you can bring out a summon and your gobgob on your first turn and then on your 2nd turn you go dragon.6.
Equipment
I put the piece of gear that is the lowest level in each set as the next set switch.Level: 1-6
Wodent Set
Obtained:
Wodents

Level: 6-15
Green Piwi Set
Obtained:
Green Piwi's

Level: 15-22
Gobball Set
Obtained:
Gobball's
Level: 22-50
Kapow/Scara/Moogrr
Obtained:
Roses(Kapow), Roses(Bouttes), Scara(Scaras), Moogrr(Moogrr's), Gobballs(War Chief Axe)

This one has such amazing amount of ini and earth damage that it was to hard to pass up sorry about the AP loss on Gobball. If you are going the 10 AP build then you can either keep Gobball until tree set or use this one for more damage/ini, totally up to you.
I know there is better weapons than the war chief axe up to 50, if you find one then use it.
This Set ▲ Offers 86% Earth Damage
Level: 50-
Tree Set
Tree Set:
Treechnids, Treechorn, Trunknid
Hidsad Bow:
(Long Distance Weapons Master: Lv 50): 5x Willow Wood, 3x Snoofle Horn, 1x TsarTsar Horn, 2x Crystal Stone
Riktus Bow:
Any Nation Riktus Dungeons
Riktus Elite Bow:
(Baddoboss)
First Swipes Club:
(Area of Effects Master: Lv 50): 2x Blibli Tusk, 20x Prickly Wood, 5x Boowolf Scalp, 15x Boowolf Hairs
Bramble Claymore:
(Oafish Toad, Polters – Not Confirmed)
Pospodrol Hammer:
(Area of Effects Master: Lv 60): 5x Treechnid Amber, 3x Sylvan Plank, 2x Lemon Jelly, 1x Nasal Muke, 1x Exchange Weight
Use Satisfaction Ring until you manage to get a Gelano, this is several different weapon choices the hammer on the right has earth damage at +40% for the perfect version I believe it is called Pospodrol Hammer, the staff is First Swipes Club with +30% Earth Damage and +40 Initiative, the sword is Bramble Claymore and has the highest at +45% Earth Damage but has -1 MP.
The 3 Bows are Hidsad Bow, Riktus Bow, Elite Riktus Bow, it would really benefit you if you can get any of these weapons as they are all really good..
Level: 60-
Riktus Elite/Trool
Riktus Elite:
Riktus Elite Dungeon
Beltrool:
Challenge in Cania Swamps
Gelano:
Jelly's
Celestial Brooch:
Gobbnoxious the Repressor
Now I cannot stress this enough.. THIS SET is actually better than the tree set I provided up above and I will explain why and explain the differences between each set.If you wear full Riktus Elite it gives you +1 AP while still leaving the amulet slot open which I would recommend a celestial brooch because of the crit and because you'll be double crackle punching.
Alright now to make it clear you can either save the 150 points we were previously going to use on +1AP and now use them on FULL Strength because we can get +1 Elite +1 Celest +1 Gelano +1 Dragon which puts us at 10 AP and leaves us to full strength build.
Now to compare differences, lets say for example we are level 61 that gives us 305 points to use on our abilities correct? with the tree set we have to -150 for the +1 AP required for 10 AP which leaves us with 155 points which 155 divided by 4 = 38% Earth Damage with Tree set that's 60% more = 98% plus Dragon that's 50% more at
148% Earth Damage.
While with this Elite set you get about this much 35% From Riktus Elite, 50% Dragon, 75% from Points which totals at
161% Earth Damage.
because we have the belt slot open we get to use Beltrool and we get to use all of our points on Strength.
Now that we've compared Damage let's compare other stats, for example we obviously know that we lose out on some resist from switching to riktus elite.. because tree is packed with resist and while that is nice I still think I'd prefer the crit you get from riktus elite and you will do more damage and the breastplate has +10% Resist for all elements so we don't lose it all.
It offers
41 Lock, 30 Dodge, 35 Ini, 15% CH,
if we add on
Pospodrol Hammer
which is the weapon I recommend then you get an additional
+40% Earth Damage, +23 Lock, +53 HP, +3 Wisdom.
I don't really have anything else to add about this set besides the fact that it topples the previous set in every way besides the little resist we lose and maybe it has a couple more points of health but overall
Riktus Elite
is a must, imagine 15% Crit with the summon you eat for Dragon with all those Crits you'll do with 2 crackler's and having
200% Earth Damage
at level 61 with Pospodrol Hammer.
www.Youtube.com/user/WakfuGuides
This post has been edited by Trilogy22 - January 17, 2017, 09:54:27.