March 23, 2012, 09:19:21 |
#1
A REAL full list of emotes?
edit: so they added some spaces, and I still don't really have many new emotes except a guild related one, and burp. Unreleased ones such as "give a gift" and "iop dance" may or may not be cause for some ??marks. And also, apparently the Kiss one. Didn't really realize this thing got revived LMAO. I know the Challenge ones are MIA at the moment, as is Spank and a few others. All of the wiki, wakfu-elements and other stuff don't really supply all of the coords for all of these, and some of the coords are wrong. I'll try and fix this one day.... but for now, so far it's just this list. Sorry about that. Not much I can do when Wakfu rips half of the emotes out with challenge stuff, anyway.../edit.
So, does anyone actually have a REAL full list of emotes available in-game? I know some of them are purchased, but I know the others are not... some are from challenges, but I'm not sure which thing is gotten where, or what they're called, etc... Can anyone help out with compiling an actual list? I've looked in the forums and on wikis, and all of the lists I see are really incomplete, honestly... maybe I missed a fantastic list, and if I did, I apologize!
So far, I have all of these: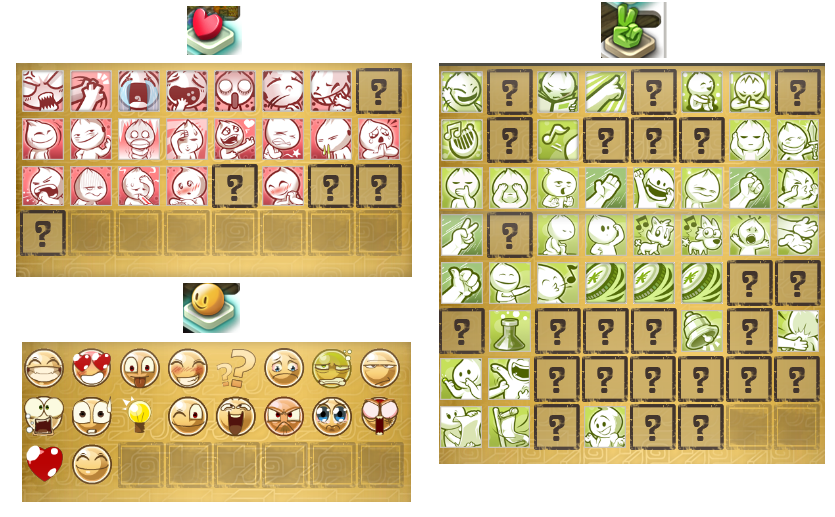 Emotions
Freak Out (/flare)
Applaud (/clap)
Cry (/cry)
Yawn (/yawn)
Be scared (/fear)
Shake head (/no)
Laugh (/laugh)
?
Agree (/yes)
Flirt (/s exy)
Too cold (/cold)
Too hot (/hot)
Confession (/love)
Diarrhea (/belly)
Sniff (/nose)
Plead (/implore)
Cough (/cough)
Feel ill (/nausea)
Fever (/fever)
Act shy (/shy)
?
Blush with delight! (/red)
?
?
?
Actions
Say hi (/hi)
?
Read (/read)
Point (/point)
?
Sit (/sit)
Bow (/huss)
?
Harp (/harp)
?
Wind (/wind)
?
?
?
Cover your ears (/ears)
Brandish a weapon (/weapon)
Cover your mouth (/mouth)
Cover your eyes (/eye)
Calm down (/calm)
Paper (/chi)
Encourange (/fan)
Sleep standing up (/sleep)
Rock (/fu)
Boo (/boo)
Scissors (/mi)
?
Loyalty (/knee)
Think (/think)
Call a cat (/callcat)
Call a dog (/calldog)
Ask for help (/needhelp)
Beg (/beg)
Thumb (/inch)
Present your wares (/show)
Whistle (/whistle)
Heads or Tails (/coin)
Heads or tails (/coinpile)
heads or Tails (/coinface)
?
?
?
Be an alchemist (/alchemy)
?
?
?
Ring a Bell (/ring)
?
Slap on the back (/slap)
Show a booger (/mouki)
Tickle (/tickle)
?
?
?
?
?
?
Open a scroll (/openplan)
Wave a flag (/flag)
?
Shrug your shoulders (/shoulders)
?
?
This post has been edited by FeldePard - January 22, 2017, 19:24:36.
Reason for edit : I haven't been working on the thread. =( Sorry.