August 09, 2015, 03:19:12 |
#1
[Level 8] Safe Haven [New/Returning Player Friendly]
So, I have previously posted and it would be kind of silly just to keep going back and reviving the same old thread over and over again.
Hi! Some people know me as Anon/Anonymity, but I go by Mello now. I am and have been the leader of a fantastical guild called Safe Haven. I know the name isn't super alluring, but we're actually pretty fun ourselves!
We've grown quite a bit since the last time I posted here, so I'd like to start fresh.
We're all casual, non-serious, friendly (and sometimes lewd) players looking for more people to enjoy the game with. Anyone and everyone is welcome to join us.
What are the perks?
Guild Bonuses
+35HP
+15 Lock
+15 Dodge
+10% Fire Damage
+10% Air Damage
+10% Earth Damage
+10% Water Damage
+15 Resist to all elements
+5 Prospecting
+10 Initiative
+5 Wisdom
+5% Crafting Experience
+2 40 slot guild compartments (Everyone gets access to keys)
Increase in GP won by 10%
We also have a havenworld located right on 5th bond market and it has all sorts of goodies in it as well.
Including
Several friendly Amybia miniatures to greet you at the door
A Market
A Zaap
Profession tables/crafting benches
Forests
Fields
An area entirely created for the use of herbalism
A monster pen
A Phoenix
Lots of pretty little trinkets
What else can we offer?
Super terrible (but fun) ranks that are earned based on the friendliness and activity of a player, we really don't care about GP that much, but GP is nice. Ranks 1-4 are the guild leader and officer ranks, but otherwise, enjoy the others we have and the perks they come with.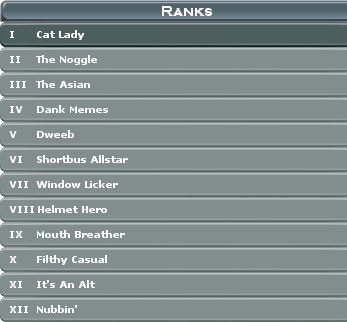 A forum including all of the random banter, tutorials and fun stuff you can think of. (I'm pretty lazy, so there's not much else.)
Teamspeak, for those lonely nights when you just need someone to pester.
Company and crude humor.
I cannot always be reached here on the forums, unfortunately, but you can find me in game as well as a handful of other people that would be happy to include you in our shenaniganry.
Mello Yellow / Anonymity / Psychomatose
Monophobia / Ivtea
Ascendant
Sirocca
Ratjax / Old Rat
Hororo / Surama
Starthebolt
Jack Roman
Clock Addict
Caesan / Bombadily
Bahrus
We can also be found in our
forums
if you can't reach us anywhere else. Even if you don't decide to join us, you're still welcome to join our little community, teamspeak included.