December 07, 2016, 04:29:27 |
#1
Quote (Kruzy99 @ 13 November 2016 22:35)
Quote (malefica-pt @ 13 November 2016 20:59)
can you send me a deck without those spells?? i find them very useful and i dont see why would you discard them

This is what I'm usually using (Depending on situation I switch out Time Control for Mummification)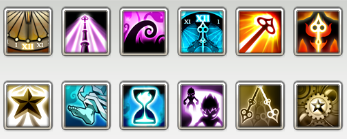 The issues I have with those 2 spells are these:
- Against the Clock: Incredibly situational. I can't think of any situations where you can go in and be sure that you'll be using this spell. The only exception is Dandy Mos Croc.
- Xelor Punishment: Xelor is all about combo'ing 2 elements together to deal damage be it Air with Fire or Water with Fire so Xelor Punishment stands out as the short range damage spell that doesn't work with anything and requires you to target an hour cell just so you can have decent damage which will most likely put your Dial and maybe even yourself in a sticky situation.
I'm admittedly pretty detached from the game and generally on an extended hiatus, but the above deck was pretty much standard Tribrid when I was still playing.