April 13, 2015, 11:48:33 |
#1
Plans for Amakna's Government, 12.04 - 26.04.
1.
Introduction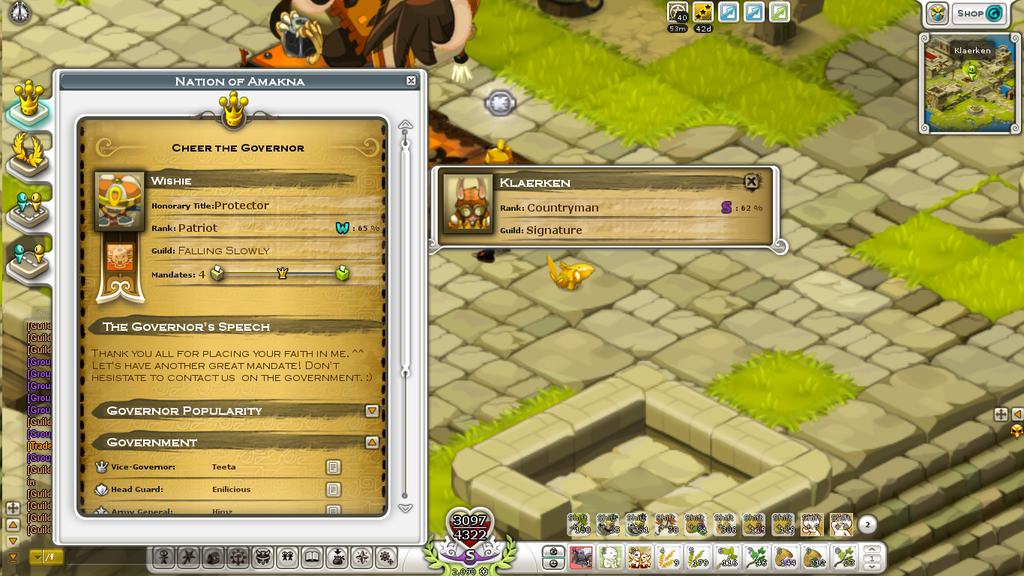 Hello everyone!
You all maybe know me by now, I'm the treasurer from Wishie's last mandate and also in this mandate.
I'm here to bring you this mandates new topics, as usual I will bring my points up slavishly to make this thread more "friendly" to lazy readers.
This mandate will focus heavily on new players, meaning people who haven't reached for the stars yet, which also means players around or under level 100.

2.
"Newbie "Zerg rush"".

The idea of this is to make a group of volunteering people, who would join me on an adventure. We'll play a whole 2 days straight in 1 of the 2 weeks we have in this mandate. If it's a success we'll bring it even further and arrange it, so that we can continue on.
The main idea of this, is that anyone who is unsure how the basics work or what dungeon to do, tactics, how to level or even where to level. We will help these people through this "Zerg rush" where we just plainly for a whole 2 days straight. Hopefully we'll have high level players with a better understanding of the game after. Or just players who are happy to have someone to passionately play with.
3.
Help your Neighbours, help yourself.
We wish to also take time to help our friends, therefore we will be taking time to help our political allies, cleaning up their eco-system.
We thought for a nice change, we will be focusing on helping others, since we didn't quite get our hands dirty in last mandate, we thought we would increase our efforts this time.
Basically we will clean up everywhere this time, also at our allies places.
4.
Got any change?

The idea behind this is to have anyone participate in giving free low level gear to anyone wandering about in Astrub. Especially me, and hopefully some officials will make sure to regularly come astrub around 4 pm server time, to make sure that we do what we can do to help the newcomers.
I will be taking my time, to stand in astrub. And hand out Kamas to the poor "newbies". Of course we've considered the chance of being tricked by already pro players. But it is something we as a community hope would not happen, to maintain this integrity needed, to make this a loveable game with an awesome community.
5.
Wakfu quiz
Lastly we've got this awesome idea of holding an awesome quiz event!
We will still keep it "newb" orientated, which means questions won't be hard. But the cash prize won't (sadly) hit the half a million Kamas, as I see some of you do!
Anyways, here are some details:
Will be held in the last weekend of Wishie's mandate.A minimum of 5-7 participants will need to participate.
You need to apply for the event by writing in the comment section
entry price will be about 100-200 kamas to add to the cash prize
A minimum cash prize of 50.000 kamas will be secured for the 1st. place prize winner! Although it will gradually lower for 2nd place price winner.
The game and rules I will start writing on, when I see enough participants in the comment section!
6.
Conclusion
This brings me to my conclusion of my second time running as Wishie's Treasurer.
As you can see, the main points in this mandate, focuses heavily on new players as well as the usual tidying,
This time we've really taken our time off, to focus on making this game more interesting, so we would like people to show some support in some way, otherwise it can get tiring trying to be perfect.
In addition to that, please feel free to PM me ingame, or comment down below!
- Klaerken, Treasurer of Amakna.
This post has been edited by PeterKJ - April 13, 2015, 23:52:55.