April 04, 2016, 13:47:33 |
#1
Quote (Gelgy @ 03 April 2016 10:59)
Epics had some updates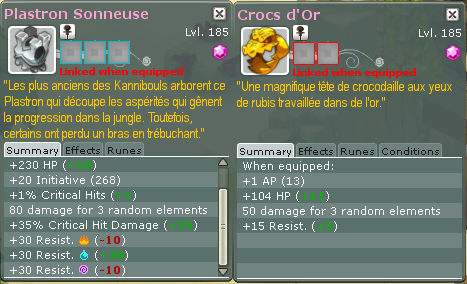 The BP still gives +2 AP, I just scrolled it off to show the resists.
I'm still not thrilled by the Plastron Sonneuse. For most classes it'll be better than Withered, but worse than the Steel Beak BP. I guess it's not bad if for some reason your build finds it easier to give up the BP slot for your Epic than a ring slot.
Crocs d'Or no longer gives +1% Critical Hits, but it's still a pretty solid, no-nonsense upgrade over the Bagus.
I guess I just miss the times when epics and relics had crazy good stats for their levels. Instead of.. you know. Actually having level appropriate stats plus whatever's taken out to make room for the bonus AP or MP.
what Condition have ring?
This post has been edited by Scccx - April 30, 2016, 15:07:36.